I think I've been trying to hard to come up with things to write. There is this weird need, in myself, to be excessively clever or witty.  I have 2 half written entries that I've been struggling to write.  Then while I was doing my Art Journaling I realized that this was something I could honestly share that I don't think many people know about.  During the times I'm in a dark space I try to do something creative. 
Discovery of Mix Media/Art Journaling
About 10 years ago I discovered the world of Mix Media/Art journaling.  The book/cards that introduced me to this type of art was Wide Open by Randi Feuerhelm-Watts. Finding this book/cards made a huge impact in my life.
Doing Mix/Media/Journaling allows me to be creative in away that I didn't realize that I longed for. I didn't want to always draw a person or do things in a structural way.  These cards told me to gather weird items and put them together in a journal or canvas. I've been art journaling for about ten years.
What the Hell is an Art Journal?
"An art journal is the same as a written journal, except that it incorporates colors, images, patterns, and other materials. Some art journals have a lot of writing, while others are purely filled with images. It's a form of creative self-care." – Mindful Art Studio
I'm going to touch upon some techniques I use, what supplies I generally use, and creative ideas.  This post is going to be more about the supplies and why I use them.  Remember that this is a JOURNAL so it may not be something you want to show to everyone. I have a lot of pages that I do not show because they are very personal.   One, more thing before I get started your art journal can also be the place to practice techniques and ideas for bigger projects.
Let's Get this Started:
YOU DO NOT have to be an artist to have an art journal.  This is your space to do whatever you want. Art journals are aways to break from the traditional formats and explore your creativity in a different way.

Journals:  What makes these pads of paper special is they have thick pages.  In your art journal you will want the pages to be thick since they will hold up to whatever you want to do.  I first started with a regular journal and it was okay; but once I moved to thicker papers I was able to do a whole lot more with paint and wax.  Sizes vary but I have two journals that are different sizes.   Here is one that I liked very much: 

the pages were nice and thick. It also comes in two sizes so you can have a small or large size.
This is the one I'm using now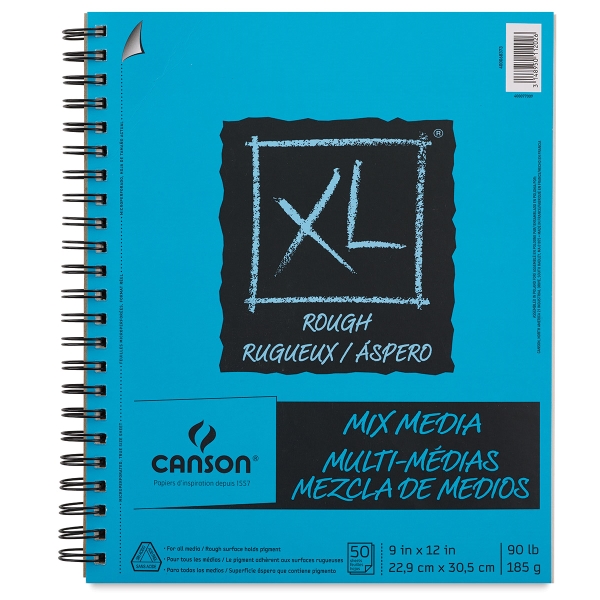 it was less expensive than the Strathmore Journal but the pages are a little bit thinner. They are still holding up but I've had a little more tearing than I did with the Visual Journal.
This is an area where it doesn't hurt to spend a little more money.  Most of the supplies can be inexpensive but there are a few that I say spend a bit more to get better quality.
3. Pens and Pencils: I usually spend more on pens and pencils than I do on other supplies. I like wood pencils over mechanical. My favorite are Dixon Ticonderoga and I use that most of the time.  A lot of people prefer mechanical but there is something about the smell of a good pencils that I love.  Ink is also very important because you maybe doing fancy lettering or drawings.  Some people write in traditional ink/gel pens and draw with an art pen.  Art pens are not cheap! But they last a very long time and they are what you want to ink your art with.  There are a ton of brands and you will have to find your preference. I rarely use Sharpie other than to write with. Just a side note, if you plan on using a lot of dark colors in your journal then I recommend a white ink/gel pen it has any awesome effect *see below the magazine picture*
**Check out Dick Blicks to see their different art pens. Their prices are good and they have an amazing selection. You can also get wonderful colored pencils, crayons, pastels and journals there.**
Let's Get to the Fun Stuff here is thesupplies that I recommend:
Crayons: I think these are so under appreciated. People seem to think that once you get out of elementary school you have to leave crayons behind. Even with the new fad of coloring people still tend to go to color pencils. I love colored pencils but with crayons I can color and I can melt them. Yep, that's right I use crayons mostly for melting onto paper. Pictured below is a piece I did with melted crayons.  What you need to be able to do this is a heat gun or hair dyer. I prefer heat guns (which you can get at most craft stores) because they tend to do more heat than blowing. It is up to you. I, also, bought a Cookie Sheet (At the Dollar Tree) to place my pieces on while I'm melting the crayons. Trust me you want something to do this one otherwise you will get wax everywhere and the paper does get hot. 
Paint: You're not doing fine art so you don't have to spend a ton of money on paint. I use the craft paint that you can get for super cheap. NOT THE KIDS PAINTS those are for children and will leave you very unhappy with the results.
Mod Podge: I like Modge podge for a few reasons. It seals your art so it won't smear. I've heated it up to make amazing patterns. Now, the glossy Mod Podge can make writing difficult and once it is on you can't make any changes. It should be the last thing you do unless you're layering and need to have the layers sealed.
Paper/Washi Tape: I like to use Dollar Trees Paper Tape because it can be painted on.  This tape is fun to manipulate and I use it often. If you want some pretty edges then go get yourself some WASHI Tape.  I find a lot of mine from Wish.com, AliExpress.com and Ebay.  You can also get them at Hobby Lobby, Joanne's or Michaels. Stamps and Stickers, can also be, fun for this type of journaling.
Magazines, Newspapers and Book: You can get these fairly cheap at any thrift store.  I think it is pretty self explanatory of how you can use magazines, newspapers, and book pages.  I will cover more of that later on. Below, I cut out an image from the magazine then Zentangled (I will cover different techniques later) around the image.  This is just one example of many that I have used with magazines. I, also, like to dismantle really torn up books and use the pages.
Colored Pencils: Yes, I still recommend colored pencils if you want to do a lot of coloring. I just recently started to use Water Color Pencils and I'm having a blast working with that medium.

Misc Supplies: I use a mash up of jewelry and scrapbook supplies. I use thin wire, die cuts, decorative paper, stencils and anything that makes a texture.  I will later on show you how to do an image transfers (LOVE LOVE LOVE.) 
In the future I will show you how to use most of these supplies. Explain what I did with a pieces and hopefully answer any questions you may have. Get to it!
"Art is Why I get Up in the Morning."–Ani Difranco